Hop hop, the Easter bunny is almost here! If you have a child's birthday coming up, this calls for a double celebration. But even if that's not the case, Easter provides the perfect excuse to invite some little friends over and to enjoy a special playdate. While Easter falls in Autumn in Australia, it is still a time we associate with the freshness of new life, nature, and all things delightful. Not to mention chocolate! So celebrate this most special of seasons with the following Easter party ideas.
Easter Party Decorations
Capture the freshness of the season with lots of lovely grass, flowers and pastel colours. Easter is the perfect time to have a party in the garden, but you can also bring the outdoors inside with table runners of fake grass and vases of freshly picked or artificial flowers.
Hang pastel-coloured bunting from the tree branches or the walls, and light things up with a string of fairy lights. You may even find some lights with egg-shaped lanterns.
A collection of bunnies will also delight. They make great table centrepieces, and are also fun to hide on bookshelves and benchtops and peeking out from behind doors.
While you'll find plenty of Easter themed decorations in the shops, a quick internet search will also bring up many paper cut-out patterns. Enjoy crafting your own bunny-shaped bunting or wall decals with the kids, by cutting out colourful paper shapes and sticking on cotton wool tails. These look great pasted on to store-bought paper bunting.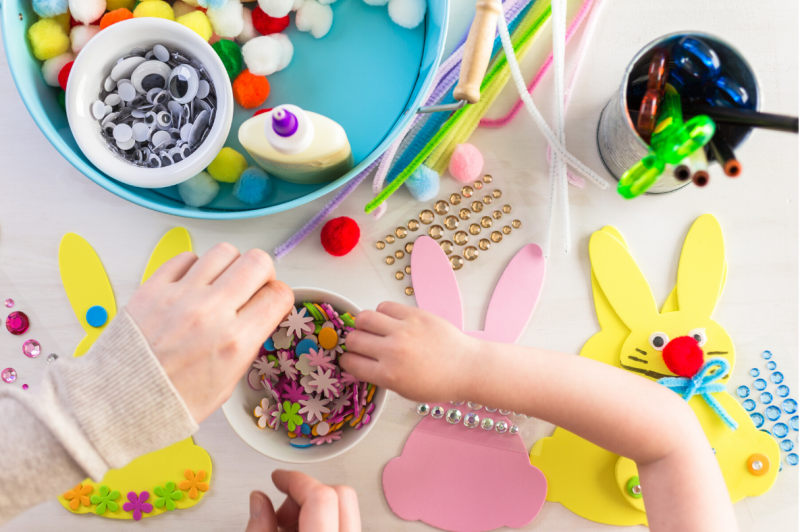 Easter Party Food
Keep the party food light, fresh and colourful. Lay out a rainbow of chopped up fruits, or thread cubed fruit onto kebabs for a beautifully presented, healthy treat.
For sweet treats, nothing looks as pretty (or tastes so great) as the old classic Fairy Bread. Or purchase a bunny or egg-shaped cookie cutter and try your hand at making your own fresh batch. The added bonus is you can give the party-goers bags of coloured icing and get them to decorate their own cookies as a fun Easter-themed activity.
Other yummy party snacks include popcorn drizzled with white chocolate and funfetti sprinkles, and little cupcakes decorated with pastel-coloured icing and topped with mini Easter eggs. Once again, cupcake decorating makes for a great party pastime.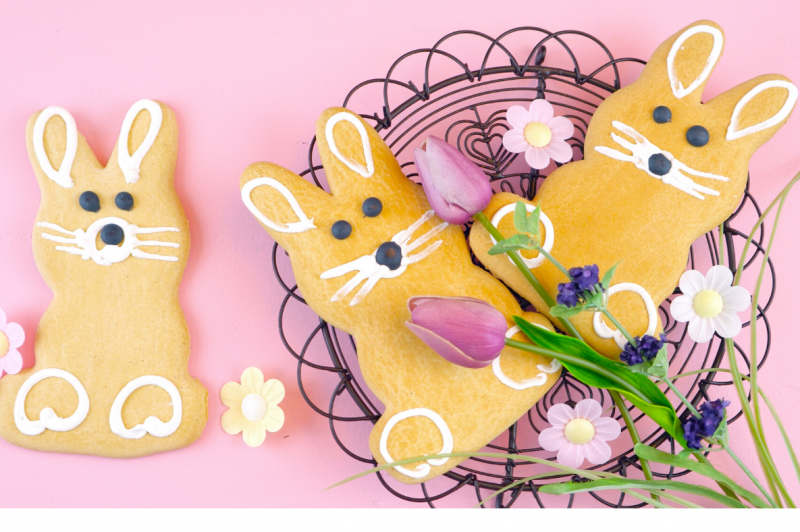 Easter Party Games
No Easter party would be complete without an Easter Egg hunt! Arm your hunters with an Easter basket each, hide some eggs and watch them go! To ensure everyone gets a fair supply, it can be a good idea to pool all the collected goodies into one big tub, and then divide them evenly amongst all the children. Also, consider hiding little toys or wooden eggs, along with the chocolate variety, so you can have an enjoyably long hunt without an overwhelming amount of chocolate.
Once the Easter egg hunt is out of the way, head inside for an Easter craft. An internet search or trip to the local craft shop will provide loads of ideas, including decorating bunny shaped cutouts and painting wooden eggs.
As previously mentioned, it can also be great fun to decorate cookies or cupcakes, and this provides the perfect segue into eating time.
For more party fun, get the children to hop into sacks or tie their legs together, and have an Easter bunny hopping race. For large groups, this can be fun done as a relay. You can also play Pin The Tail On The Bunny, have an egg and spoon race, or Easter egg rolling race. For that game, place tipped over baskets around the garden or lounge room floor, give each child a wooden or plastic egg and croquet mallet or pool noodle, and get them to roll their eggs into each basket to score points.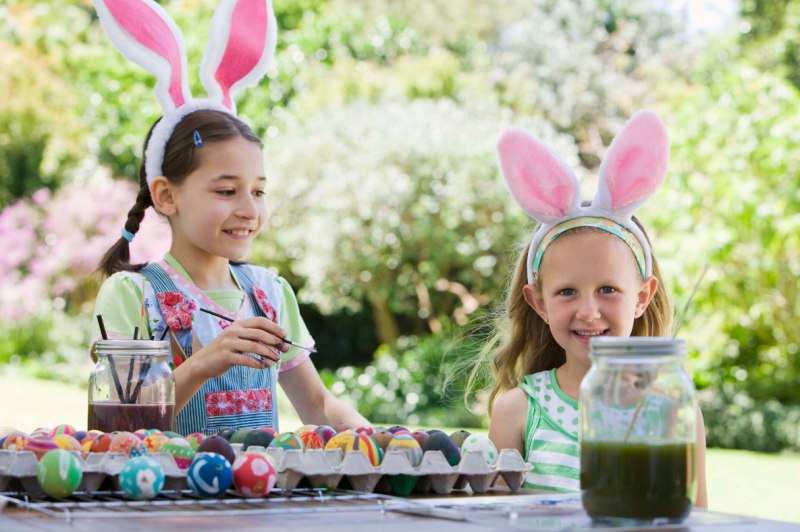 Easter Party Sleepover
If you're looking to host a slumber party, decorative themes that celebrate nature are a perfect match for Easter time – such as SleepoversRus' Secret Garden and Sugar & Spice. Our Wonderland Whispers theme, which is inspired by Alice in Wonderland, also offers the perfect touch of whimsy.
View these and other SleepoversRus themed party packages here.
And when all the fun is done, send the little ones hopping off home with a pair of funny bunny ears, a basket full of treats and a head full of happy memories.
Happy Easter!