Throwing a sleepover party is always lots of fun and to help you to make it extra special, here are some great sleepover party activities and favours developed by SleepoversRus. Read a little more about the products below and/or click here to add any items to your online booking request.
SleepoversRus prides itself on providing original and unique sleepover party activities and favours. However, we haven't stopped there!
We now have a very special complimentary gift for parents when booking a slumber party with SleepoversRus. This is the gift of sleep!  An audio file entitled the 'Magical Sleepover' has been specifically recorded for SleepoversRus and is designed to send the children to sleep at the end of a fun-filled day. Once you have a confirmed booking with SleepoversRus you will be able to download the file from here
Who doesn't love a big milk chocolate freckle?  These are a great take home treat (if they last that long)! Our chocolate freckles are made from the finest Belgian chocolate and labelled with our fun 'Thank you for making my party sweet!' labels.
You've never experienced the true taste of a chocolate freckle unless you've tried one of these!!
Allergen Advice: Milk chocolate contains dairy products. Product is gluten free. May contain traces of nuts.
Product is individually packaged with ingredients labelled.
SleepoversRus have teamed with Belgian Delights, a business inspired by a passion sustained through three generations to create exquisite couverture chocolates to be shared and enjoyed.
It is getting near bedtime & the over excited children need some down time. What about a 'Cuddle in a Cup'?  These beautiful handmade chocolate spoons from Belgian Delights are the perfect solution for a yummy hot chocolate. Each guest receives their very own personalised mug and a hot chocolate spoon. Just add hot milk to the mug, stir in the chocolate spoon until it dissolves. Belgian Delights use only premium sustainably sourced chocolate. A great keepsake to remember a fun party.
The chocolate spoons can also be purchased on their own without the personalised mugs.
Allergen Advice: Contains milk and soy. May contain traces of almond, hazelnut, macadamia, pistachio, walnut and peanut.
Product is individually packaged with ingredients labelled.

*Available for Melbourne bookings (and for a limited time, Queensland bookings)
WOW your guests with their very own personalised gold glitter toiletries/cosmetic clutch.
The gold glitter cosmetic pouch is personalised with black vinyl lettering. To allow us time to personalise your cosmetic bags, guest names ideally need be confirmed 2 weeks' prior to your party date. We don't outsource the personalisation, we actually do it ourselves and as the process is a little fiddly, we do need a little notice.
What a beautiful and unique take home gift for your guests!
*Subject to availability – be sure to speak with your SleepoversRus representative to check that these are available in your area. You may also be interested in our Sleepy Time Pillow Spray priced at only $5. And if you are looking for unique fill for your cosmetic bag (without any nasty ingredients), look no further than our new smaller packs – Sweet Dreams and Sweet Donut Dreams
Have you seen our gorgeous range of hand blended, hand pressed and hand poured 'Sleepy Time' products? Take a look at our newly introduced 'Donut Pamper Me' packs which include the personalised gold glitter cosmetic bag, along with the 'Sleepy Time' Pillow Spray, donut soap complete with soap 'sprinkles (with no nasty ingredients). We hand blend, pour and decorate the donut soaps ourselves using only premium organic essential oils and ingredients. Also included in some of the packs are our hand blended and poured temple/lip balms, a bath puff/sponge and a 'Slumber Party Hair, Don't Care!' hair tie. All of our optional add ons make the perfect unique sleepover party favour.
Encourage the children to use the calming aromatherapy 'sleepy time' blended balm and pillow spray just before listening to the 'Magical Sleepover' audio file. We blend, pour and press all of our own products so as to ensure the quality, and no nasty ingredients.
Check out all of the optional extras here.
Send party goers on a magical search for treasure at your child's slumber party. Our cleverly crafted Torchlight Treasure Hunt provides at least an hour of fun just before bedtime, with clues to solve and games to play. Plus, gorgeous pirate treasures that were hidden more than 100 years ago and are now guarded by a magical sprite … or so the children will believe! The only thing you need to worry about is hiding the clues. The Torchlight Treasure Hunt is a great way to wrap up an evening of fun and games. The kids will expend all their energy in finding the treasure and they will (hopefully) go willingly to bed at the end of it!
Add the Torchlight Treasure Hunt to your online booking request here.
Quality DIY Bag Charm Keyring Kits (limited stock available from Dream Team member, Caroline only)
Our DIY Bag Charm Keyring Kits have proven to be very popular. The DIY Bag Charm Keyring Kit consists of beautifully handcrafted neutral and patterned polymer clay beads allowing each guest to make their very own unique bag charm or keyring. Whilst our DIY Kits comes with 5 suggested colour combinations, the children can be as creative as they like using the polymer clay beads provided. Each DIY Bag Charm Keyring Kit consists of a rose gold metal clip, all natural leather cord and 4 polymer clay hand rolled beads. We also supply you with full colour instructions. This crafting activity is suitable for ages 6+. Check them out here.
These hire items are extremely popular. Have a great time with age appropriate truth or dare challenges. Our new game 'Would You Rather?' is also proving extremely popular.  Guaranteed to delight all the happy glampers! Our photo fun dress up hire is also great fun. The kids love taking selfies with fun and silly dress up props. Check them out here
All SleepoversRus customers can enjoy using our FREE editable invitations and breakfast menus. Download and edit with your specific details and print them off at home. We have a huge range of templates to match all of our fantastic slumber party themes. Check out the full range here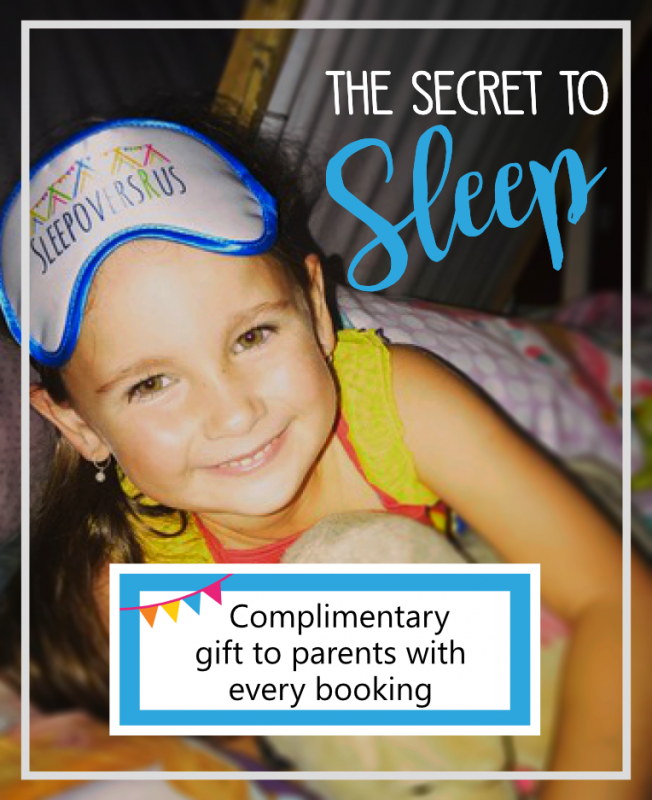 SleepoversRus has teamed up with Gai O'Dwyer, a Peak Performance Coach and professional speaker to create a beautiful audio story entitled the 'Magical Sleepover'. Gai uses various techniques in her work including Neuro-Linguistic Programming ('NLP'). Simply put NLP is how to use language and words to consistently achieve our specific and desired outcomes.
During the creation of the "Magical Sleepover" Gai has incorporated specific language models to assist the mind to relax, in a fun and engaging story. As a mother, Gai appreciates, just as much as any parent, the importance of getting your child to sleep, particularly when you're having a children's sleepover party and in this case, at the end of an action-packed day.
A link and password will be forwarded to all SleepoversRus clients allowing download of the audio file before the party to a device that can play audio files (eg iPad, iPhone, laptop or other mobile device) and when the children are settled in their tents and you are ready to send them off for a peaceful night's sleep, just press play. The audio runs for eighteen minutes and you can simply repeat until all children are asleep, if need be. However, don't be surprised if the children are asleep before the end of the story!
SleepoversRus are very excited to be able to offer this special complimentary gift to you, the parents. You can also read more about Gai here.
We hope that you enjoy our gift of the "Magical Sleepover", the gift of sleep, something all parents deserve at the sleepover party.