Listed below are some great party ideas you can organise yourself. We've also listed some popular party food recipes. If you've got some fun kids party ideas, feel free to share them with us and we'll publish them here.
Be sure to also check out the unique SleepoversRus party games and favours here.
Paige's Balloon Timeline for Party
Melanie used the Balloon Timeline below to run Paige's sleepover. It was extremely successful and the girls were all very excited to learn what the next activity was with the popping of the balloons! This activity is highly recommended as it's fun for the guests and it makes Mum or Dad's job much easier in keeping the party ticking along with activities etc.

Chocolate Tasting Game
Print out the SleepoversRus Chocolate Tasting Game score cards. To do this, simply save the scorecard as a jpeg image and then print that image off on your computer.
Buy 10 different types of chocolate bars.  For example, Mars Bar, Snickers, Twix, Milky Way, Kit Kat, M&M Bar, Chomp, Cherry Ripe, Crunchie and Curly Wurly.  (Remember to be mindful of allergies).
Break the bars into bite size pieces and put the pieces of one type of chocolate bar on a tray, then create the rest of the trays for all your different samples.
Once you are ready to start the game, have all your guests bring their SleepoversRus sleep mask to the table and hand each guest a score card and pen/pencil, and sit down.
Next, have the guests put their sleep masks on and when all the eyes are covered, pass out a piece of the chocolate bar to each guest from one tray. Once they've eaten the piece, allow them to remove the mask and write down which chocolate bar they think they've just eaten. (Make sure their masks are on and eyes closed before eating the piece as some chocolate bars may be recognisable just by their shape).
Repeat this process until the guests have eaten a sample from every tray.
At the end of the game, have guests score their cards to find out which ones they got right and which ones were wrong.
As the major prize, perhaps the winner could receive all 10 different chocolate bars (wrapped and uneaten, of course!)  If there are a number of guests with the same score, you could always divide up the chocolates between the top scorers.
Test Your Taste Buds
Before the party set out several different edible items from the kitchen and number them 1 to 6 … or if you want to have a larger assortment 1 to 12.  The object of the game is for the children to roll one or two dice – twice and they have to eat a spoonful of the combination of the two numbers they roll.  Have a mix of good and yucky foods.  Here is an example of 2 dice:
#1 – Cottage Cheese
#2 – Tomato Sauce
#3 – Mustard
#4 – Mayonnaise
#5 – Orange Juice
#6 – Salsa
#7 – Ice Cream
#8 – Soda
#9 – Sugar
#10 – Soy Sauce
#11 – Icing
#12 – Vegemite
If on the first roll a child gets a 3 and the second roll they get a 9, they have to mix a small spoonful of sugar with mustard and eat it.
Minute to Win It Games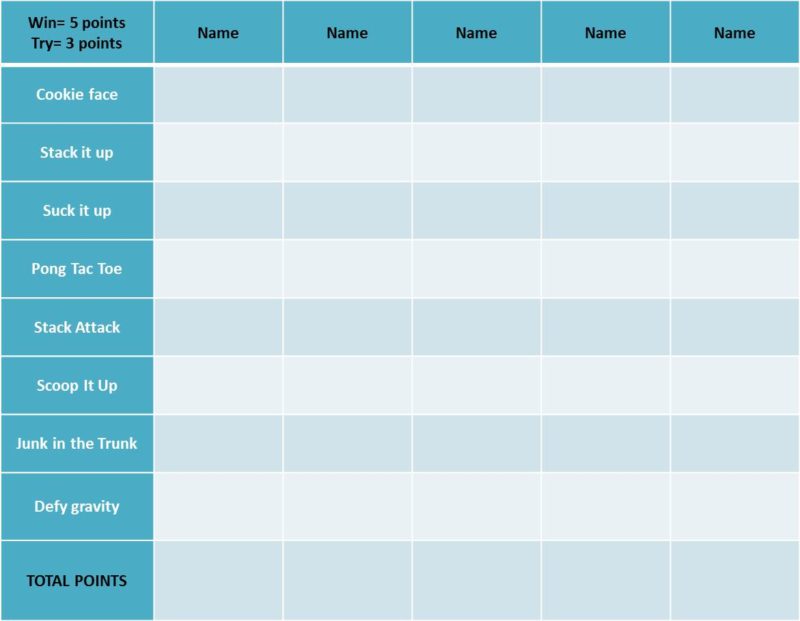 These 'Minute to Win It' games were a huge success at Paige's 13th birthday.
Cookie Face
This is a great game to kick off the party because all of the players can compete at the same time (or you can break it down into several rounds of game play). Each player places a cookie on their forehead, and the goal is to get the cookie into your mouth using only your facial muscles in under 1 minute. No hands! This is tougher than it looks!
Stack It Up
Players must stack 25 coins (I used 5 cents) in under a minute using only one hand. This game works well with 3 players competing in each round of play.
Suck It Up
Players place a straw in their mouth and use suction to transfer a pile of 25 M&M's (or smarties) from one plate to another in under one minute. Only one hand may be used to hold the straw. Everyone gets to eat their candy when the round is finished!  This game also works well with 3 players competing in each round.
Pong Tac Toe
Pong Tac Toe was one of the guests' most favourite games.  Using blu tac I secured 5 large plastic drinking cups to a table.  Each player had one minute to bounce the ping pong balls down the length of the table and into the cups – 3 in wins!
Stack Attack
Players have to stack up a pile of cups and then place them back into a single stack in under a minute. Each guest stacks 21 cups. Two players competing in each round works well so that any falling cups won't knock over the competitor's stack, too!
Scoop It Up
Using nothing but a spoon in your mouth, transfer six ping pong balls from one bowl to another) in less than one minute. No hands! Hands are only allowed if you drop the ping pong ball, and then they can be used to place the ball back into the original bowl for another transfer attempt. 2-3 players compete for each round of play.
Junk in the Trunk
This game was another crowd favourite! To prepare for this game, empty a tissue box, and use a knife to make two slits into the bottom of the box. Thread an adjustable belt or wide ribbon through the two slits to create a tissue-box-on-a-belt. Removing the thin plastic barrier from the tissue box opening will make game play easier (for younger children) or keep it intact for more challenging play.  To play the game, strap the tissue box onto the player's back, and fill it with 6-8 ping pong balls (we used 6, but 8 would be appropriate for older children and adults). Shake, shimmy, jump, and dance around until all of the balls have fallen out of the tissue box. No using your hands and no laying down! This game is hysterical to watch in action!
Defy Gravity
Using only one hand, players must keep two balloons from touching the ground for one minute. For a more challenging game, increase the amount to three balloons per player (and use different coloured balloons for each player to make it easy to differentiate!). No holding the balloons!  2 players per round of competition worked well to give the players ample space to knock their balloons around.
The player with the most points at the end of all games wins a prize.  Mel bought a notebook and pen from Typo as the prize. There's a blank scorecard for you to use too – simply click on the image above to enlarge and print. Enjoy!
What about these old school favourites?
Kids still love to play these at any birthday party!
Or what about these games, perhaps suited to the slightly older kids? Check out the newest version of Pass the Parcel – with Gladwrap. The kids will love it – they can see the prizes but it seems to take forever to get to them!
Movie Suggestions
Feed the kids and then settle them down for the night with a good movie (or two). Check out these suggestions –
Party Food Inspiration
Need some party food inspiration?  Check these out.
Looking for an extra healthy snack alternative – check out The Daily Nourish Co.
Throw the ultimate sleepover and have your party snacks sorted with The Daily Nourish Co.'s 100% natural treats.
At TDNC each of our Daily Balls are hand-rolled by Osteopath, Personal Trainer and health enthusiast Dannielle, to create nutritious, convenient snacks, filled only with the goodness of natural ingredients.
Completely free from refined sugar, gluten, additives and preservatives, they are suitable for all ages, and the ultimate treat to satisfy sugar cravings, without the guilt.
We understand how common food preferences and intolerances are, that's why we've created both vegan (dairy free) and non-vegan varieties.
Eating healthy food doesn't have to be boring. Replace the processed junk food with our Daily Balls, and treat your body naturally.
Visit https://www.thedailynourishco.com/ for more information.
Dr Dannielle Coffey is also the very talented niece of SleepoversRus co-director, Caroline Streeter.
Little Black Book of SleepoversRus Premium Suppliers
SleepoversRus has partnered with LegalVision to help business owners with their various legal needs. LegalVision's business lawyers can assist on all business law matters including business structuring, employment, trade marks, leasing, loans, IT and litigation. LegalVision operates on a fixed-fee model to provide their clients with certainty and transparency of their legal fees. SleepoversRus is proud to be supported by LegalVision for all our legal needs.
Stunning Unicorn Headpieces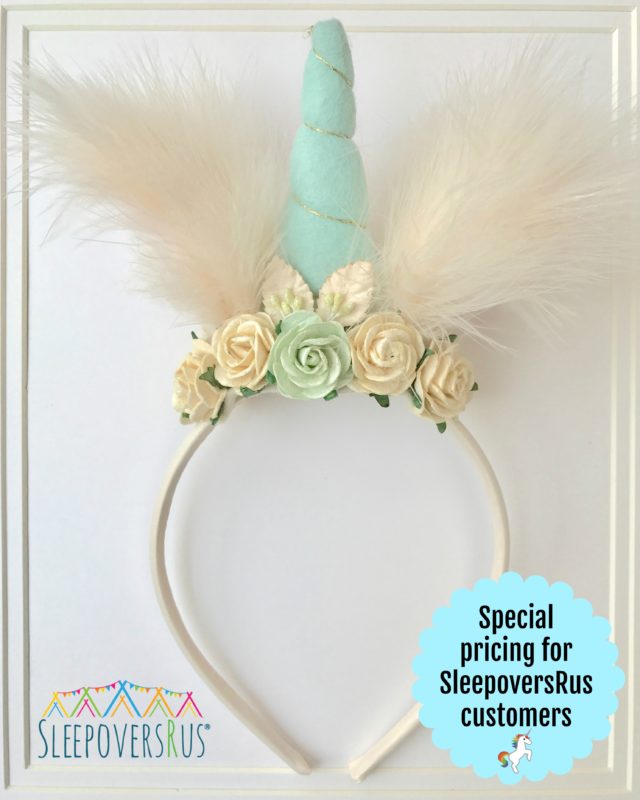 EvaBelleTutu was created from a life long love of all things pretty and the enthusiasm to provide beautiful and affordable creations to all. Nothing makes EvaBelleTutu's founder, Sue Haidacher, happier than seeing a little girl's face light up the moment they receive their treasure. All of Sue's creations can be viewed on her Instagram account – evabelletutu_1.  If you wish to make a purchase or would like to discuss a custom order please contact Sue directly via Instagram – evabelletutu_1, Email  evabelletutu@gmail.com or give her a call on 0422 186 680.
SleepoversRus is simply in LOVE with these headpieces, they are absolutely stunning and EvaBelleTutu has created a very special budget headpiece designed for the 'Unicorn Dreaming' and 'Unicorn Wonderland' slumber party themes. The budget headpiece consists of a felt horn, fluffy feathers and flowers on both sides, all on a satin covered narrow headband and priced at only $15.00 for the first headpiece and then $13.00 for each subsequent headpiece + postage.
SleepoversRus customers may order directly from Sue and may also be eligible for bulk pricing. Sue also has a premium range of headpieces for those with a larger budget. Pay full price for first headpiece and then receive 10% off for subsequent pieces ie $40 for first premium headpiece and $36 for each additional premium headpiece thereafter, plus postage.
Contact Sue from Eva Belle Tutu today to place your custom order by calling 0422 186 680.
Due to the handmade nature of the headpieces, please provide as much notice as possible to ensure your headpieces arrive by the party date.
The Secret to Sleep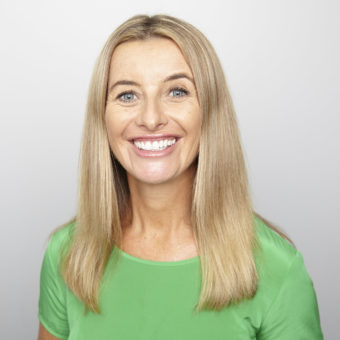 My name is Gai O'Dwyer, I am the creator behind the complimentary audio "Magical Sleepover" assisting the children to fall off to sleep at the end of their slumber party.  I am a former early childhood teacher with over fifteen years' experience teaching all ages from babies through to preschool, both in Australia and abroad.  I am a mother myself to a beautiful eight year old daughter and am now specialising in human behaviour as a  Peak Performance Coach and Professional Speaker.  I use various techniques through my work and although I am very passionate about Neuro Linguistic Programming ('NLP'). Simply put, NLP is how to use "language and words" to consistently achieve our specific and desired outcomes.  The quality of our lives are determined by the communication we have with ourselves and others.
During the creation of the "Magical Sleepover" I have incorporated specific language models to assist the mind to relax in a fun and engaging story. I appreciate just as much as any parent the importance of getting your child to sleep, particularly when you are having children sleep over and, in this case, at the end of an action packed day. The idea of the audio is very simple. Download the audio file before the party to a device that can play audio files (eg iPad, iPhone, laptop or other mobile device) and when the children are settled in their tents and you are ready to send them off for a peaceful night's sleep, just press play. The audio runs for eighteen minutes and you can simply repeat until all children are asleep, if need be.
For more information on who I am and what I do, feel free to jump over to my website where you will see a set of audios that I created for typical fears some children experience. I have literally created hundreds of audio files for children all the way through to Professional Athletes. If you are looking for a more personalised audio for your child, children, or even yourself, please feel free to contact me. An audio can be created for absolutely anything eg job interviews, having more confidence, fears, exams, sleeping, the list is endless. My daughter falls asleep to an audio every single night.
I hope that you enjoy "Magical Sleepover", the gift of sleep, something that all parents deserve.
Throwing a party is all about having fun and Parties in Packages is here to help you celebrate in style. The goal of Parties in Packages is to meet the themes and budget of each and every customer so that impressing your guests doesn't cost a fortune.  With over 15,000 party supplies and more than 130 party themes, Parties in Packages has an enormous range of party decorations to suit any age or occasion and can deliver anywhere in Australia or New Zealand.
Personalised Embroidery
We recently undertook a party in Mordialloc, Victoria and the guest of honour's Mum had organised personalised dressing gowns for each of the children attending the slumber party.  Personalised PJs and TShirts are beautiful gifts to be given instead of lolly loot bags (albeit a little more expensive). If you are looking for someone to complete personalised embroidery contact Tracey of Baby Bear Embroidery. Facebook page link – www.facebook.com/babybearembroidery Instagram link www.instagram.com/babybearembroidery

If you're in Queensland and in need of a gorgeous birthday cake or cupcakes, look no further than Two Little Cupcakes by Rachelle. Two Little Cupcakes can be found on Instagram @two_little_cupcakes or Facebook or on mobile 0410 879 081
If you're in Melbourne and in need of a gorgeous birthday cake or personalised cupcakes, Little Bird Cakes specialises in making bespoke cakes fo parties, young and old. They will work with you to develop a design based on your ideas or concepts. They will even create personalised cupcakes as featured in the Mega Party we undertook in Alphington, Vic. Feel free to check out the website and photos at www.littlebirdcakes.com.au or email hello@littlebirdcakes.com.au or pick up your mobile and call 0401 799 891
TSave
Save
Save
Save
Save
Save
Save
Save
Save
Save
Save
Save
Save
Save
Save
Save
Save
Save
Save
Save
Save
Save
Save
Save
Save
Save
Save
Save
Save
Save
Save
Save
Save
Save