A slumber party is not a party without fun activities and yummy food.  Why not combine the two and make the food an activity? We love the popular trend of making food bars for your guests where you provide all the ingredients required to make a meal, dessert or yummy drink which your guests can make exactly how they want. In this post, I am going to share, "8 Food Bar Ideas For Your Next Sleepover", So keep reading.
Not only are food bars convenient for you as the host (you don't have to worry about who wants what, or who doesn't want what!) but the kids will have fun making up their own plate, snack or drink.  Make a food station with plenty of choices and you'll have the kids lining up for more.
Here are our top 8 food bar Ideas we recommend for your next sleepover experience:-
1.  Build Your Own Burger Bar
Kids love burgers and this is a quick and easy dinner fix.  Cook a few burger patties (store bought or make your own) on the barbeque and prepare lettuce, tomato, cheese, beetroot, bacon and grilled onions to add to your burgers.  Serve with a number of condiments including tomato sauce, barbecue sauce, mustard and mayonnaise in easy squeeze bottles and your kids will have themselves all they need for the ultimate burger.
2.  Build Your Own Taco Bar
The Build Your Own Taco Bar is much like the burger bar but with a Mexican twist.  Cook up some taco meat and grab some hard and soft tacos and you have the base ingredients for your taco stand.  Then it's all about the fillings – shredded lettuce, diced tomatoes, diced beetroot, fried onion, grilled mushrooms, whatever you want!  This food bar may get a little messy but what Taco isn't?! Don't forget to include salsa and sour cream for that finishing touch. Take it to another level with packets of corn chips.  Simply open the packet and add your ingredients and the kids will have a fun, portable meal.
3.  Popcorn Bar
If your sleepover involves a movie (and even if it doesn't) then popcorn is a necessity.  Provide the children with a large bowl of air-popped popcorn (which only takes minutes in the microwave) together with toppings or seasonings to give them extra flavour.  Be creative with sweet and savoury add-ons like melted butter, cinnamon sugar, chilli salt, or pre-make popcorn flavours like Snickers Popcorn or Caramel Popcorn.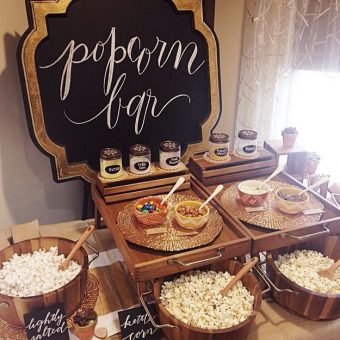 4.  Ice Cream Sundae Bar
Make the kids scream for ice cream with an epic ice cream sundae bar.  Serve ice cream frozen in mason jars, or kids can scoop their own ice cream into ice cream cones or ice cream cups.  There are so many ways you can create your ice cream bar as long as you include toppings, toppings and toppings. Need some ideas?  You can add chocolate sprinkles; chocolate chips: mini marshmallows; hundreds and thousands; gummy bears; chopped peanuts; chocolate topping; caramel topping; strawberry topping; Ice Magic; fruit; and the list can go on and on….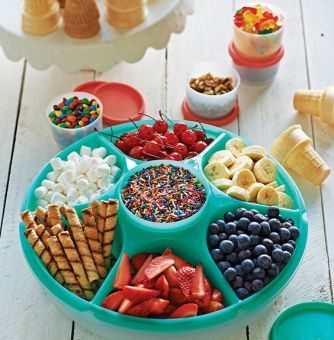 5.  Lolly Buffet
No need to explain this one.  Lollies, and lots of them. Serve a variety of lollies in different shape glass jars with scoops and spoons to dish out the sweets.  Give the kids a jar to keep their lollies in for an easy party favour.
6.  Milk and Cookie Bar
Fancy a night cap?  Its a popular wives' tale that a cookie and milk can help induce sleep so the milk and cookie bar seems like a no-brainer for a slumber party. We love this idea from L Eat Catering where the milk and cookies are served in little shot glasses with straws in tiers.  FYI – Doughnuts also work!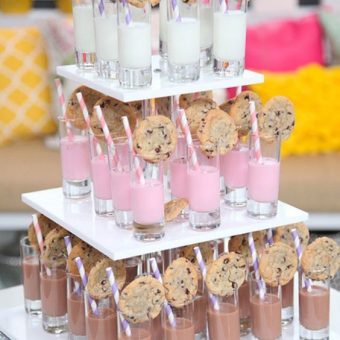 7.  Hot Chocolate Bar
You cannot go wrong with chocolate!  Make up a batch of hot chocolate and serve in mugs.  Let the kids choose from toppings such as whipped cream, chocolate chips, marshmallows, chocolate shavings, coconut shavings, and make it feel like Christmas with candycanes or crushed peppermint.  In case of emergency, serve up hot chocolate and the kids should go straight to sleep!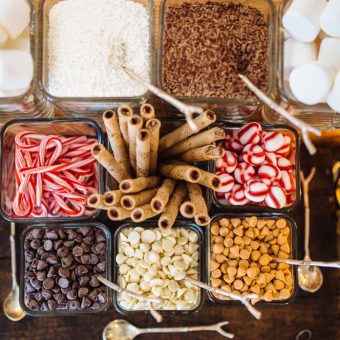 8.  Breakfast Bar
One of the things you probably love when staying at hotels is the buffet breakfast.  Make the morning after fun with a breakfast bar of dreams. Things you can include in your breakfast bar include cereals, pastries, doughnuts, waffles, fruit, oats, bagels, croissants, and a warm breakfast of bacon, eggs, sausage, omelettes and more… Let the kids sleep in and make it a brunch bar.
Once you've planned your menu for your sleepover, you can really impress your guests with a customised menu to match our popular sleepover themes.  Simply download the breakfast menu and type in your own personalised menu.
These days sleepovers are even harder to cater with the prevalence of eating preferences (vegan, gluten-free, vegetarian etc) and allergies.  Offering food bars make it easier to cater for everyone and let them all have a little bit of fun. You might have to break that rule of no sugary treats or heavy foods before bedtime because these food bar ideas are too delicious not to try!
Let us know if you serve a food bar at your next sleepover.