Whenever the weekend is just around the corner, the kids start to itch for doing somethings happening over the weekend. Kids are tiny energetic explorers; their minds want them to keep doing new things as well as wandering new places. They are little balls of energy that need to expend this energy.
Fortunately, there are plenty of fun activities and opportunities for the kids around the Gold Coast. From wild water fun to amazing recreational and theme parks to beaches, and whatnot. You wouldn't run out of exciting ideas and things to do around here with the kids. Lucky for you, we have put together a wonderful list of family-friendly things to do around Gold Coast and Brisbane.
So, in case you are planning a fun weekend for the kids, here are some exceptional experiences to try with your family and make it memorable:
Go Crazy at Dreamworld / White Water World
If your kids are a fan of the action-packed rides, then you must go visit Australia's biggest theme park, Dreamworld. From facing the big cats on the Tiger Island to enjoying the amazing Big9 Thrill rides, you and the kids wouldn't have a single dull moment while here. The little ones can go for the fun song and dance show with Dorothy the Dinosaur and Friends. You also have the option of enjoying splash and play at Pipeline Plunge or Wiggle Bay if you are up for some water adventure. However, if you are looking for some serious water fun and adventures, you must go for the WhiteWater World that houses the world's top water slides. It has a 'Little Rippers' section for the kids, as well as the Super Tubes Hydro Coaster for an, outclass water experience.
Visit https://www.dreamworld.com.au/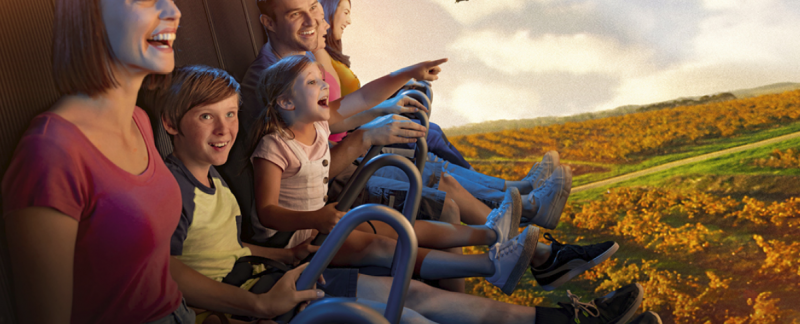 Tree Top Challenge, Mt Tamborine
The TreeTop Challenge at Tamborine Mountain is Australia's largest TreeTop Adventure Park with more than 120 TreeTop activities including 10 ziplines! Their courses range from easy to extreme and traverse through nine acres of amazing bushland and rainforest. To complete the entire Adventure Park you will need three to four hours where you will have an amazing adventure flying through the trees, conquering your fears and having a whole lot of fun!
You will hang about in the trees, balance on suspended bridges, jump on 10 huge flying foxes with some spanning over 130 metres – it's great fun, it's safe and appeals to the daredevil in everyone!
Their Adventure Park is designed for the entire family aged eight and up, you don't need any experience and it's perfect for all fitness levels! Get ready to experience the rush of flying through the trees and gaining immense satisfaction as you conquer your fears and create unforgettable memories!
Visit https://www.treetopchallenge.com.au
GC Aqua Park
Slide down to GC Aqua Park today for a dip and some laughs!  Gold Coast's only inflatable water park. Race your friends across 600 metres of awesome aqua park obstacles, some of the highest and largest in Australia!
Plenty of fun for everyone. Minimum age is five years, children under 10 must be accompanied by a paying adult/responsible person. Lifeguards are Surf Life Saving Bronze Medallion accredited and their wonderful ticketing staff are ready to provide you friendly and professional service.
This is an obstacle course set up in paradise! Go visit them in the heart of the Gold Coast to make some memories! Located at Broadwater Parklands, Southport.
Please do note the hours of operation as this business is seasonal and closes over the Winter holidays.
Visit https://gcaquapark.com.au
Currumbin Wildlife Sanctuary
Explore this iconic Gold Coast Wildlife Sanctuary. Immerse yourself into the wonder and natural beauty of 27 hectares of Currumbin rainforest, wandering through open animal enclosures, feeding kangaroos and cuddling koalas along the way.
Experience the wild lorikeet feeding, free flight bird shows and Aboriginal performances. See the wonderful vets in action within the Wildlife Hospital precinct. With a huge outdoor themed playground, Wild Island, there is plenty of entertainment for kids to enjoy as they tour the sanctuary on a miniature train.
Lost Valley a new exotic precinct features five hectares of stunning rainforest, Explore a forgotten world and get up close and personal with some of the world's most unique and distinctive flora and wildlife including friendly Lemurs, Cotton-top tamarins, Red pandas, Capybaras along with free-flying birds and exotic reptiles
Currumbin Wildlife Sanctuary is a not-for-profit organisation and reinvests all proceeds back into wildlife and conservation programs.
Visit https://currumbinsanctuary.com.au/
Movie World
Step under the famous archway of Australia's number one Theme Park, Warner Bros, Movie World. Take on world class rides, attractions and shows and meet some of your favourite stars!
Home to the tallest, longest and fastest HyperCoaster in the Southern Hemisphere, Movie World boasts a full day of adventure filled with all the glitz and glamour of Hollywood, your favourite Looney Tunes Characters plus the Super Heroes and Super-Villains of the DC Universe.
Experience all new attractions including the family favourite Scooby-Doo Spooky Coaster Next Generation. Uncover endless thrills with new special effects such as projections and lasers!
Plus, witness the all new exclusive JL52 Batmobile in the Streets Star Parade. You can also get your photo taken with Batman and the Batmobile throughout the day.
Visit https://movieworld.com.au/
Wet 'N' Wild
Enjoy endless summer days at Wet'n'Wild Gold Coast! Splash into a world of fun with a world class line-up of slides and attractions for the young and young at heart.
Experience Wet'n'Wild Junior, a huge zone just for little adventurers. Designed especially for kids, Wet'n'Wild Junior features kid-friendly water slides including miniature versions of our larger thrill slides like Tornado and the Aqua Racers.
If you are after something more adventurous, tackle the gut wrenching Aqualoops! You will be released down a trapdoor, sending you plummeting into a massive vertical free fall.
If you are after a slower pace, you can't go past Calypso Beach or the Giant Wave Pool – the perfect place to relax and unwind after all the action.
Visit https://wetnwild.com.au/
SEA World
Delve below surface and discover a whole new world of fun and adventure at Sea World.
After an educational adventure, then you must see the amazing Affinity Dolphin Presentation.  Just want to chill, take a seat in the shade while the kids cool down in Sea World's newest splash pad attraction, The Reef at Castaway Bay. Don't forget to stop by and meet Chase and Marshall from PAW Patrol and catch their new show, PAW Patrol On Holiday at the Nickelodeon Stage.
Make friends with the magnificent marine life, from dolphins to seals, Polar bears, penguins and more. Learn and laugh as you watch the new and educational Seal Guardians presentation.
The New Atlantis precinct is going to be a game-changer for Sea World. It is a thrilling and immersive new multi-million-dollar precinct which will transform the park into a new era with the three world-class rides – The Vortex now open and The Leviathan and The Trident opening in 2021.
Visit https://seaworld.com.au/
Trail and explore the Botanic Gardens
Are you looking for some close to nature experience for the kids? Then wandering the Botanic Gardens of Brisbane would serve you right. You have not just one but two excellent options for it: Brisbane Botanic Gardens Mount Coot-tha and Brisbane City Botanic Gardens.
We recommend you the Brisbane Botanic Gardens Mount Coot-tha as you would be travelling with the kids. Located on the Mount Coot-tha, these are the premiere gardens of Queensland. The gardens feature the biggest collection of the rainforest trees of Australia along with natural wildlife as well as the monumental Tropical Dome. You can walk through the trail by yourself or have a guided tour. Do visit the Sir Thomas Brisbane Planetarium to show around the kids the marvels of the universe, so they get a taste of the space.
Visit https://www.brisbane.qld.gov.au/things-to-see-and-do/council-venues-and-precincts/parks/city-botanic-gardens/attractions
Play Innovative Golf at the Topgolf
Another amazing place that offers an exceptional experience for the kids around the Gold Coast and Brisbane is TopGolf. TopGolf will allow you to hit their innovative micro-chipped golf balls to their giant targets placed on the field. The kids get to hit these targets from their own bay and score as much points as they want with each hit. Let the kids make all the points they want while you lay back and relax with some mouth-watering food from their chef-inspired menu at the Rooftop Terrace with some amazing live music. We assure you will have some memorable family moments and memories to take back home from top golf.
Visit https://topgolf.com.au/
Go to the Top with the Wheel of Brisbane
Does your child love the heights? Then we have just the right point for you to visit the Wheel of Brisbane! This is the giant Ferris wheel of Brisbane riding which you can get a view of the whole town. The views from the top are amazing both day and night. As it is situated at the heart of South Bank, you will have plenty of things to do and see around here, so you can plan a whole day trip around it.
Visit https://thewheelofbrisbane.com.au/
Go visit Tangalooma Island
Another happening option for you to explore is the amazing Tangalooma Island. It is referred to as a Tropical paradise with palm trees towering over the sparkling waters and the sandy shores. You can take a ferry with the kids from Brisbane to Moreton Island, which will take around 70 minutes.
Your kids would definitely enjoy feeding the dolphins at this dreamy place. If you decide to stay overnight, you can also enjoy some fishing and snorkelling as well at the amazing water beaches in Moreton.
Visit https://www.tangalooma.com/
Visit the Unique Ripley's Believe it or Not!
One of the most unusual yet exceptional attractions of the Surfers Paradise is Ripley's Believe it or Not! Kids would love its 16 themed galleries that are loaded with unique artefacts as well as interactive exhibitions. You can walk through the spinning vortex tunnels, get creeped by the spooky shrunken heads, become the spy that you always wanted to, wade through the room of green lasers making your own way. Kids love all these fun activities; hence it will make for an amazing experience for them.
Visit https://www.ripleys.com/surfersparadise/
Paradise Country
Paradise Country is Australia's number one Farm Experience and has become a popular destination for a fun family day out. It's all about creating lasting memories as you experience life on an authentic Aussie Farm, nestled between Warner Bros, Movie World and Australian Outback Spectacular.
There's nothing quite like the feeling you get from watching their stockmen and their dogs round up a flock of sheep, crack a stockman's whip or put their trusty stock-horses through their paces. You will even get the chance to sample some of their delicious billy tea and learn how to make traditional damper before heading to the shearing shed for their Ram Parade and Sheep Shearing Display.
Shaun the Sheep is now at Paradise Country! While the Farmer's away the Flock will follow him Down Under!
Visit https://paradisecountry.com.au/
Holey Moley
(also in Melbourne)
Holey Moley is Australia's craziest and most unique mini golf venue, Par none.
Forget the usual windmills and castles, putt your stuff through shark infested waters and pop culture references like The Simpsons couch and into the Nine Iron Throne itself. Each hole will keep you wanting more.
They have space for the whole crew, young, old, big, small – no worries. Everyone can putt their stuff around the course at Holey Moley.
Holey Moley is a mini golf course and bar that turns traditional putt putt into a multi-sensory labyrinth of unique holes inspired by everything from your everyday to the fun of your childhood faves.
It's nice, it's nostalgic, it's '80s, it's '90s. It's the craziest round of mini golf you'll ever play.
And with drinks, cocktails (only for the parents of course) and tunes on offer at the full service bar, The Caddyshack will take care of all your off-the-green needs.
It's Australia's best mini golf course. Par none.
Special Note:  Remember to take your glampers for an early afternoon game as Holey Moley becomes Over 18's only after 8pm in Surfers Paradise and Brisbane Wintergarden with their Fortitude Valley venue becoming Over 18's after 5pm.
Holey Moley mini golf is a putt above the rest.
Visit https://www.holeymoley.com.au/locations/surfers-paradise
Urban Xtreme
Urban Xtreme in Hendra is Australia's only Indoor Ski, Rock Climbing & Adventure Sports Park and the home for adventure sports in Queensland! They are dedicated to training the next generation of adventure sports athletes in their well renowned Adventure Sports Academy and helping adults find the fun in fitness with their Teen and Adult Fitness Classes. And, of course, they are also super passionate about entertaining people through active fun with their amazing range of parties.
With over 10 awesome adventure activities under one roof, you can Ski and Snowboard all year round on their indoor slopes, battle it out in Laser Tag, challenge yourself in Ninja & Parkour, jump high on the Trampolines, or climb to new heights on their Rock Climbing walls. There's even something for the littlest adventurers with a dedicated Playground.
Visit https://www.urban-xtreme.com.au/
Plan the Perfect Slumber Party for Kids
No matter which destination you choose for the kids to visit, you can plan a slumber party for them when you return home from your day out. Add a relaxing movie to the list if you plan to visit a place that would make the kids feel tired. In case you are hosting kids from the school or family along with your children, you can get some great party supplies and arrangements done by the slumber party specialists in Gold Coast –SleepoversRus! From themed invitations and breakfast menus to full-fledged slumber parties, you can get it all here.
You can get your place transformed into the perfect slumber wonderland to surprise the kids when they come home from the trip. We guarantee that your kids would love the idea and have the best weekend of their life with these amazing ideas.
Some of our themed sleepovers that would tie in perfectly to any of the activities mentioned above would be:
Check out all our packages on our website.  Simply click on a location closest to your area to see all of the available slumber party / teepee hire packages and don't hesitate to contact us on our website, via email at info@sleepoversrus.com.au or give us a call on 0497 110 570.  Weekends are generally our busiest time as we are setting up and packing down slumber parties.  The quickest and easiest way to get in touch is via email or via the Contact Us page on our website.