It's summer party time! The sun is hot, the drinks are cool, it's an excellent time for a party. Here we've collated five summer party themes for girls that we know they'll love.  Whether beachside, poolside or inside, these themes are prefect for summer celebrations.
Tropical Party
Lush foliage, hibiscus flowers, sweet summer fruits … Tropical and Hawaiian Luau are hugely popular party themes for girls. Decorate your space with large green leaves, colourful flowers and grass skirts, and serve cut up mangoes, pineapples and other juicy fruits. Fancy mocktails with little umbrellas will go down a treat, and you can provide grass skirts and flower leis for dress-up fun.
This is the perfect theme to celebrate pool-side, but make sure you also have somewhere shady to provide a reprieve from the sun. If you're having a sleepover, our 'The Palms' tent setup provides the perfect indoor retreat for your party guests.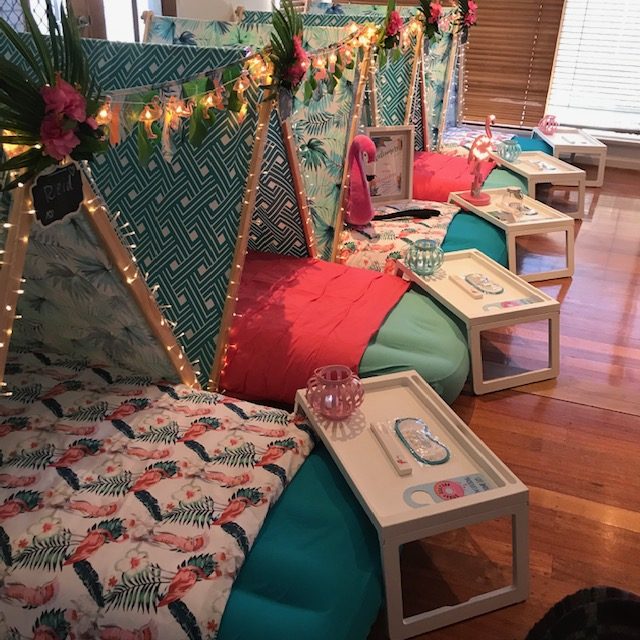 Beach Party
Even if you can't party at the beach, you can bring a hint of sun and sand to your own home with themed decorations such as mermaids or sea creatures. Keep an eye out for props to use, such as soft toy mermaids, sea creature wall decals, fishing nets, seashells and buckets and spades. If you have a sandpit (or even a large tub), kids can have fun digging in the sand for hidden treasure.
Blue, silver and sparkles make a perfect colour scheme that hints at sun-dappled water – see how beautifully glittery our Mermazing tent setup looks.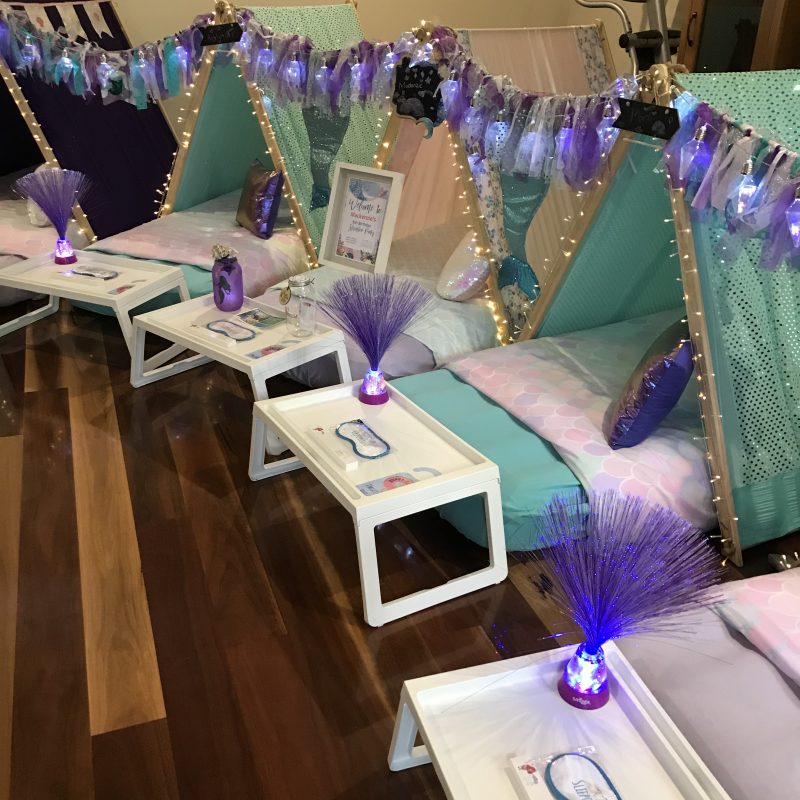 Ice Cream Party
I scream, you scream, we all scream for ice-cream … whether in a cone or on a stick, the pastel coloured ice cream motif is a popular one. And rightly so, because nothing says 'happy childhood' quite like a yummy ice-cream!
Decorate your space with pastel coloured tassels, pom-poms and cut-out ice cream shapes. Then treat the kids to an ice-cream bar where they get to make their own sundaes. It's great fun for the kids and is also one of the easiest party desserts to prepare. Winning!
Boho Picnic Party
Got a nice back yard? How about a picnic party? Layout some rugs and cushions on the lawn and decorate the yard with boho-inspired lace dreamcatchers, rope tassels and bunches of flowers. Keep the colours neutral and soft for that dreamy boho aesthetic.
Indoors, set up a quiet nook or sleepover retreat with pretty teepees – our Boho Dreaming and Boho Soiree packages make this easy as pie. Then settle down with a craft activity, such as creating dreamcatchers (we have lovely dreamcatcher kits for this) or making bracelets.
Bollywood and Arabian Nights
OK, so we couldn't pick a favourite here, but both of these party themes offer a colourful and exotic vibe that's perfect for hot summer days or nights. Have fun decorating with swathes of colourful fabric, jewel-coloured cushions and coined scarves (or get us to set things up for you with our gorgeous Arabian Nights package).
Pop on some Bollywood or belly dance music and let the girls enjoy shimmying the night away. They may also enjoy decorating themselves with stick-on bindis, henna-style temporary tattoos and sparkly bracelets. What fun!