There's something special about a child's 13th birthday; they are so excited to become a teenager and it's a special birthday milestone to celebrate. But thirteenth birthday parties can be tricky, as your child is no longer so easily entertained, and bored teenagers can soon get up to mischief! However, there's a whole lot of great 13th birthday party ideas that young teens will love. The most important thing is to involve the birthday child in the planning and make sure the key activities or themes are of their choice.
Movie Marathon
Thirteen-year-olds love the luxury of lounging on a couch, eating popcorn and binge-watching a few movies or TV shows. Make your viewing area super-comfy with doonas and pillows, and stock up on snacks like popcorn with toppings, chips n dips, even pizza slices or ice cream sundaes. For a bit of healthy fun, get the kids to make their own fruit slushies and pop them in a cup with lid and (reusable) straw. Then dim the lights, hand over the remote, and just check back on occasion. Don't forget to check the rating and age-appropriateness of all shows beforehand.
Of course, nothing finishes a movie marathon better than a sleepover, and SleepoversRus have some fabulous sleepover setups that are particularly suited to teens. Check out our Oh La La, Zebra Zerlicious and Arabian Nights themes.
Spa and Beauty Party
Many young teens are keen to experiment with hair and makeup, and a pamper themed party can be a great hit. Provide an array of makeup, hair accessories, nail polish and mirrors, and let the kids give each other makeovers. You can add in hair curlers or straighteners, but be sure to supervise these as they can burn. You can also have fun making facemasks from kitchen ingredients and sitting back with a footbath full of fizzy bath-bombs. Ask the guests to BYO dressing gown for a full spa experience.
Another fun activity is to collect a big wardrobe of old clothes (from the op shop or each others' wardrobes) and challenge the kids to create a new outfit. Then set up a runway and photo booth for some fun modelling and recording each look.
To create a gorgeous spa lounging space, check out our Boho Soiree party package. This setup comes with individual mattresses and breakfast trays, but without individual tents – perfect for a chat and giggle while lounging about between treatments. Just make sure the nail polish is dry before jumping in!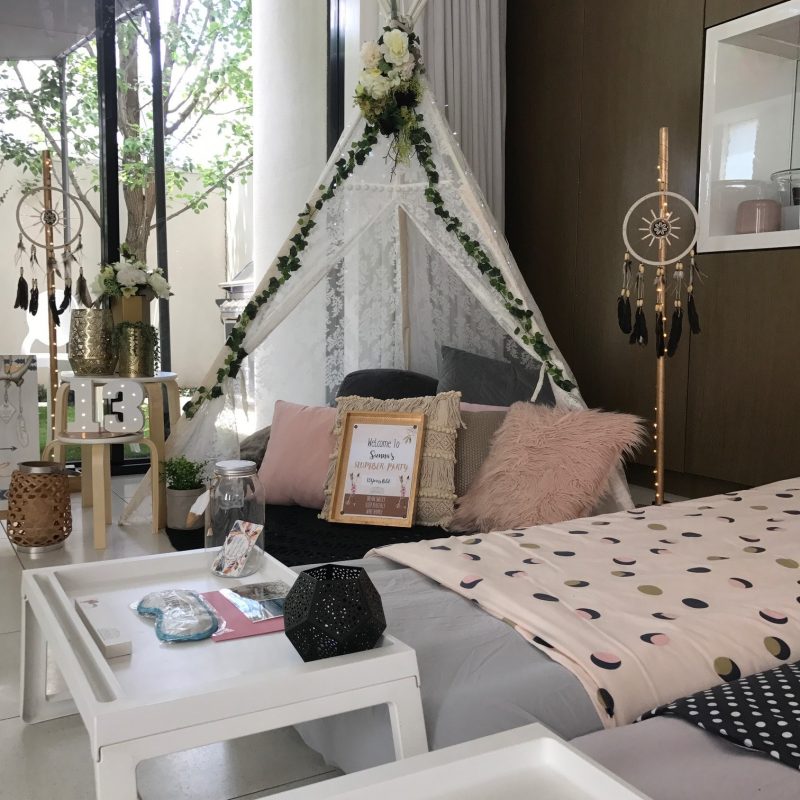 Pool Party
Nothing beats a pool party in summer weather, and this is a perfect party activity for 13-year-olds. Make sure you have lots of spare towels, cool drinks, and sunscreen on hand. Icy poles, fruit platters, and fruit slushies will all go down a treat. Amp up the fun with lots of inflatables and a tub full of water pistols.
After all that swimming the kids will be tired! If you're setting up for a slumber party, our 'The Palms' package pairs perfectly with a tropical, sun-kissed pool party theme.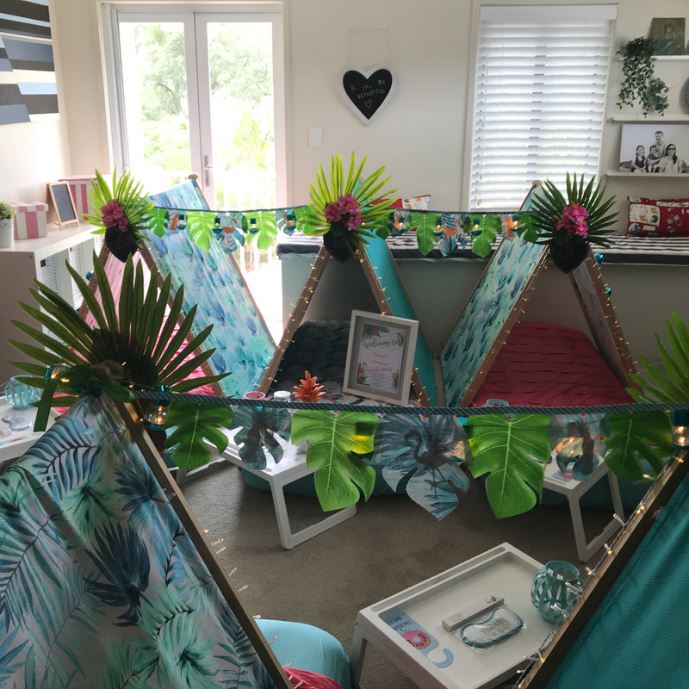 Karaoke and Dancing 
If your child's friends are used to performing, hiring a karaoke machine or mobile disco can be a whole lot of fun. You can also use the PlayStation Rock Band or Just Dance to create a fun party atmosphere using your own TV. However, you need to know your group – while many young teens will happily sing and dance with their peers, some groups of kids will be too shy for this to work. So, follow your own child's lead on this, as they will know their group of friends best.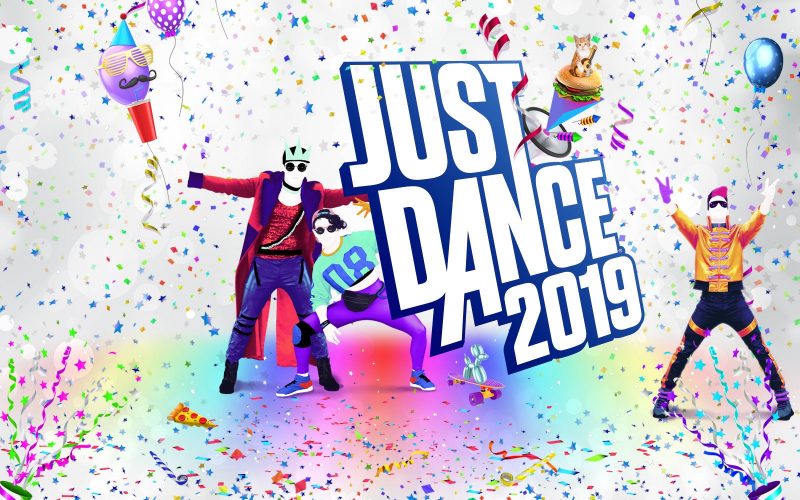 Teen-Friendly Games
13-year-olds are generally too old for traditional party games, so you need to get a little creative in your game choice. One sure-fire winner is the Chocolate Tasting Game, where the kids taste various unwrapped chocolate bars and have to guess which one is which. We've outlined all the instructions for you here.
Minute To Win It games are also perfect for this age group. You get one minute to perform a funny challenge. The variety of challenges is endless – start with this list of challenges and then get the kids to make up their own. If you have a large group of guests, divide them into teams, keep score, and present a toy medal to the winning team members. So, I hope you have got "13th birthday party ideas", You can share these ideas with others.